---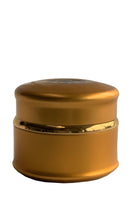 Oud Abyadh by Ard Al Zaafaran is a Delicate, Light, and Warm Fragrance with Woody Notes and Roses is the most delicate and subtle aroma we can expect from Oudh. The Opening is Slightly Spicy and Powdery with Saffron, Cardamom and White Musk. A Floral Heart Note Follows with Jasmine, Patchouli, Roses, and Sandalwood. Amber, vanilla, labdanum, and Vetiver in the Base Lends a Depth and Warmth to the Base. A warm Oriental Perfume with a Pleasant Lightness.
Main accords: Woody, Roses, Warm Spicy, Musk, Powdery
Top notes: Saffron, Cardamom, White Musk
Middle notes: Roses, Jasmine, Patchouli, and Sandalwood
Base notes: Amber, Vanilla, Labdanum, Vetiver
Key Features:
Gender: Women
Fragrance Type: Halal Attar / Pocket size Perfume
Manufacturer: Ard Al Zaafaran
Imported: UAE
DIRECTION:  First time when you open the jar mix the ingredients thoroughly using a small spoon.  Take a small amount of Mukhameria and rub between fingers or palm of your bands and run over your body and/or hair.  The non-liquid ingredients may settle in the bottom of the jar after a while and therefore you may occasionally need to stir the contents.
PERFUMES AND LIQUIDS OF ANY FORM AND KIND CANNOT BE SHIPPED OUTSIDE THE UNITED STATES