---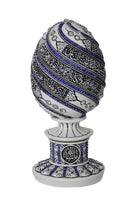 A modern, luxurious Swarovski stone inlaid handmade Egg made with First quality materials.
All the verses and motifs are embossed and polished by hand. Since it is painted with a leaf, it does not tarnish, does not deteriorate, its Swarovski Stones are quite solid and very elegant.
It is shipped in its own special cardboard box against breaking against strong packaging. The inside of the box is in the shape of a trinket, with a black stylish sponge covering the bottom and top of the perimeter.
If you want to buy a meaningful, permanent gift for your loved ones, you can buy this luxury handmade Special Gen with peace of mind. The Photo Does not do it justice.
Dimensions: 7.25 x 3in
Imported: Made in Turkey
It includes:
Al Qalam Ayah 51-52
وَإِن يَكَادُ الَّذِينَ كَفَرُوا لَيُزْلِقُونَكَ بِأَبْصَارِهِمْ لَمَّا سَمِعُوا الذِّكْرَ وَيَقُولُونَ إِنَّهُ لَمَجْنُونٌ (51) وَمَا هُوَ إِلَّا ذِكْرٌ لِّلْعَالَمِينَ
Surah Al Falaq
بِسْمِ اللَّهِ الرَّحْمَنِ الرَّحِيمِ
قُلْ أَعُوذُ بِرَبِّ الْفَلَقِ (1) مِنْ شَرِّ مَا خَلَقَ (2) وَمِنْ شَرِّ غَاسِقٍ إِذَا وَقَبَ (3) وَمِنْ شَرِّ النَّفَّاثَاتِ فِي الْعُقَدِ (4) وَمِنْ شَرِّ حَاسِدٍ إِذَا حَسَدَ
Surah Al Nass
بِسْمِ اللَّهِ الرَّحْمَنِ الرَّحِيمِ
قُلْ أَعُوذُ بِرَبِّ النَّاسِ (1) مَلِكِ النَّاسِ (2) إِلَهِ النَّاسِ (3) مِنْ شَرِّ الْوَسْوَاسِ الْخَنَّاسِ (4) الَّذِي يُوَسْوِسُ فِي صُدُورِ النَّاسِ (5) مِنَ الْجِنَّةِ وَالنَّاسِ